Step 6: Getting Hair Extensions, The Big Day
You have done all of your research and are now ready to go to your hair extension appointment. Your stylist should tell you about how long it will take and whether you should bring anything, i.e. small lunch, books or magazines to read, etc.
If you are unhappy about the color of the extensions, you should mention it right away-early in that attachment process. It may be easier for the stylist to change a color when the hair extensions are not attached to your head.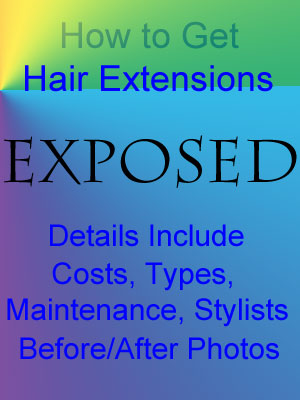 Hair extensions attachment should not physically hurt you. If your stylist is using a braiding/sew-in method, it is possible to get the braids too tight. This will result in tension and additional stress at the scalp, resulting in scalp soreness and possibly your natural hair falling out.
As far as tipping is concerned, you should tip your stylist for his/her time and the quality of the work they have done. Tips for hair extension services can range from 0-15% of the total price for the service.
Be sure to ask very specific questions about how to take care of your hair extensions? What shampoos, conditioners should you use, can you comb/brush the hair, can you air-dry your hair after you wash it, can you go swimming, can you perm or color the hair, etc.
Improper maintenance of the hair extensions can shorten their life