Step 3 Select one ormore hair extension methods

Akinda Magic Hair Extensions
Balmain Company
Bellargo
Cinderella Hair
Chrissy V
Dome
Eurolocs
Extend USA
Garland Drake
Great Lengths
Hairdreams
Hair Xtend
Hair Locs
Hair Police
Invisible Hair
Jeffrey Paul
Mark Barrington Concepts, Inc.
Mark Glenn Hair Enhancements
Mega Hair
Monkey Barrz
Pro Hair from Pro Styles
Raccoon
Raphael Basante Hair Systems
Sequence
So.Cap.
Super Hair Factory
Ultratress
You guessed it, there are hundreds of companies that offer hair extensions. We ran into this major stumbling block in researching our E-book, Hair Extension-The official consumers guide to getting hair extensions, since there are some companies that will sell hair extension kits to just about anyone who wants to buy them. If you just type in hair extensions as a search term, literally thousands of sites show up.
So, we developed a selection process to determine what methods we would be covering. Each company listed at the right has met two or more of the criteria listed below.
1. Company offers some form of training or certification program
2. Company has been in business for 10 years or more.
3. Company has a high sales volume
4. Company offers a unique method of applying hair extensions
5. Company has an Internet Presence
6. Company is frequently mentioned in various hair extension forums
It is usually a good idea to select several different companies to start with in case there aren't any trained or certified stylists in your area.
Continued Top Middle
Arielle- luxurious silk top base full lace wig - $ 559.00
Specifications: Type: Light brown Swiss lace with SILK TOP BASE, stretch in middle, single knots at hairline & double knots throughout, no bleached knots, baby hairs Color (See Color Chart): 2 with 10 highlights Hair Length (See How to Measure): 22'' to 24 inches at longest layer Density (See Density Chart): Medium Texture (See Texture Options): Indian Remy, Silky Straight Approximate Measurements (in inches) (See How to Measure):Medium Cap Circumference: 22 Front to Nape: 14 Ear to Ear across forehead: 12 Ear to Ear over top of head: 12.5 Temple to Temple around back: 15 Nape of neck: 5 This full lace wig is professionally cut and styled and will not look as pictured unless you style your precision cut with either rollers or a curling/flat iron. The hair is straight when un-styled. You can use a light hair spray to keep the body of your curls for a longer time.

Includes BONUS before/after hair extensions gallery, hair extension comparison chart and hair extension suitability test, all for one low price.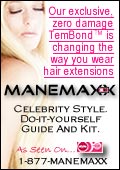 MANEMAXX
Do-it-yourself Hair Extension Kits:
MANEMAXX offers an inexpensive, safe alternative with no glues, no fusion in strand-by-strand, comfortable, celebrity style hair extension wear.
www.manemaxx.com
Continued from Bottom
Ten Important Facts To Find About Hair Extension Companies and Methods:
What type of hair is used and is it re-useable?
What type of training and/or certification is required for the hair stylist to attach hair extensions?
How long do the hair extensions last?
What type of hair are the hair extensions intended for and how long does your hair need to be to attach the extensions?
What are the average costs?
Where can you find a stylist that offers these type of extensions?
What sort of maintenance is there, and does it cost extra?
What are the side-effects of the method? I.e. can it damage your hair?
How long has this company been in business? (Type in the search box of any search engine 'company name + problems' to check them out
Are there any guarantees?
Have you selected several different companies and methods that you think you might want to try?
Then, proceed to Step 4